Features
Exact puts you in control with state-of-the-art Case and Finance Management. Audit-proof your agency with effective Staff Management features. Exact alerts you to problems, issues and reminders about your clients and you decide the rules.
Click to learn more…
We know your job is much more than bookkeeping and accounting. That's why Exact is built on a robust case management foundation that helps you manage the whole client.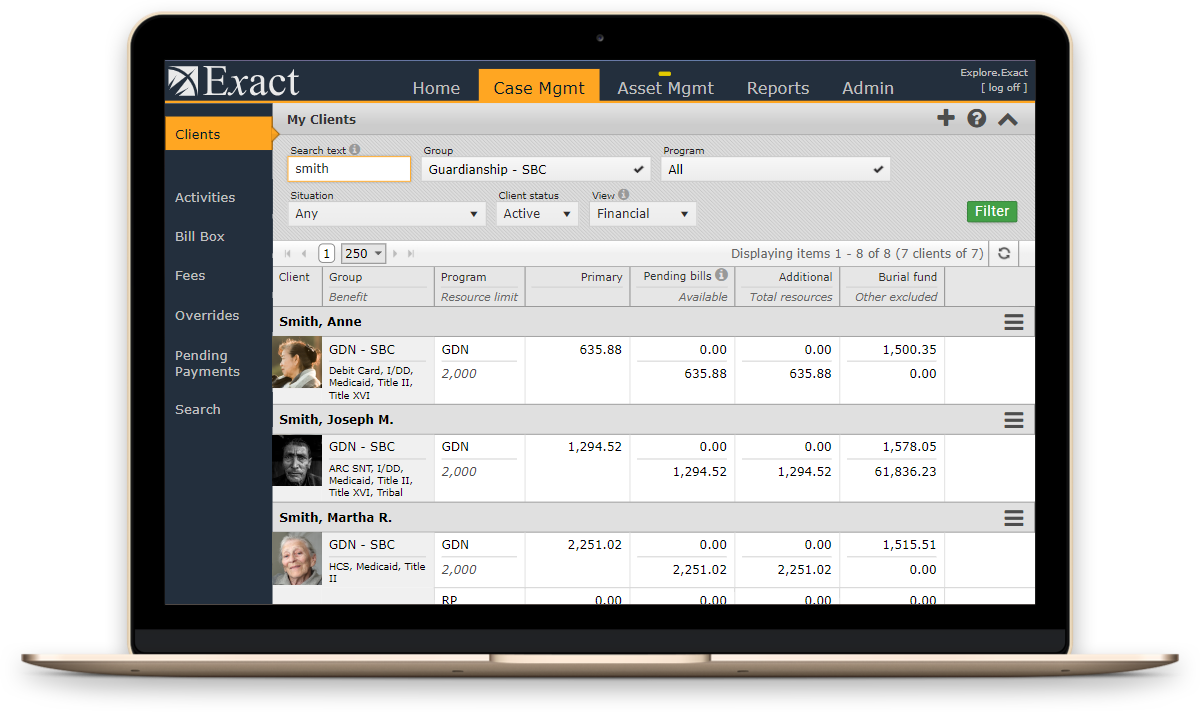 Client Data
Comprehensive client data includes demographics, housing, contacts, identifiers and a photo
Upload documents and image files to store important client records in Exact
Print Word documents that merge client data within on your customized template form
Track client residential history including move-in/move-out dates, landlord and rental payments
Agency staff time tracking for client-specific activities which may include billable hours and invoicing
Track all client benefits/programs
Alerts
Configurable alerts for missing client data help you complete client intake
Reporting
Client demographic and facility visit reports
Exact streamlines your finance management processes with built-in safeguards that help audit-proof your agency.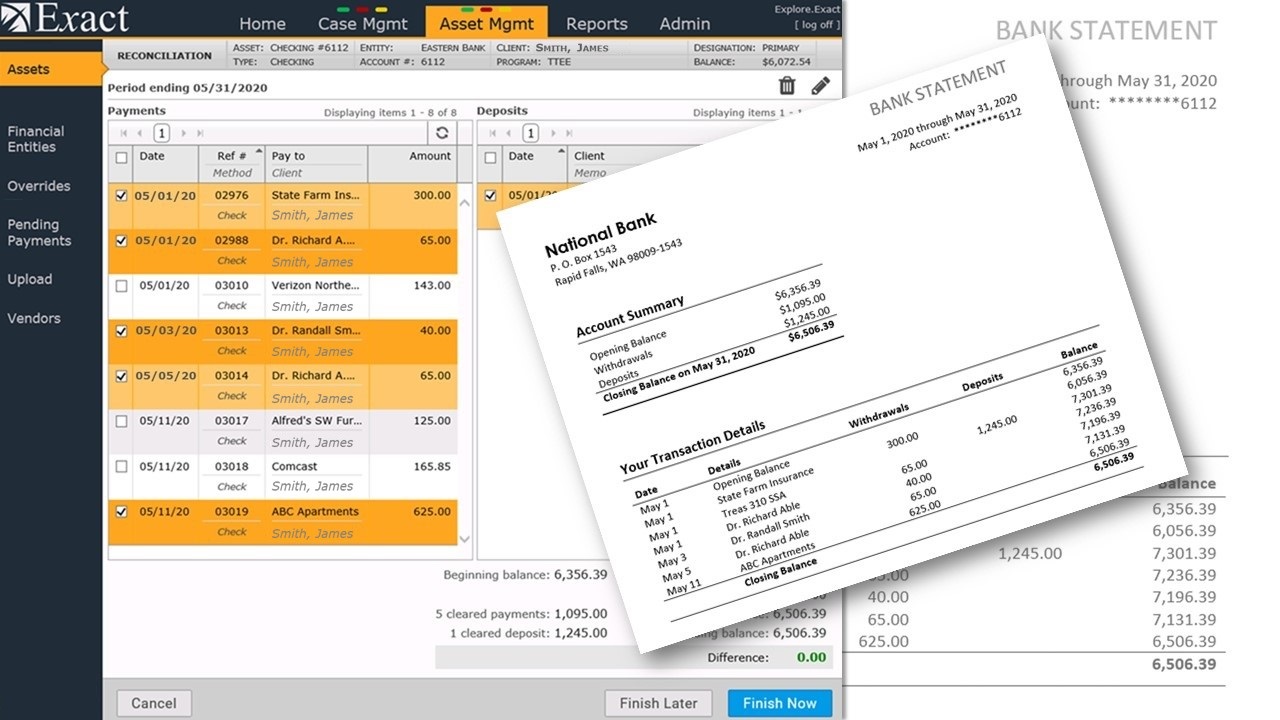 Payments
Disburse funds via client pre-paid debit cards
Use pre-printed blank check stock and let Exact handle check numbering
Supports printing MICR encoded checks, if needed
Make payments via ACH up-loadable NACHA file
Positive Pay up-loadable file which assist your bank in preventing fraud
Prevents frontline staff from creating overdrafts
Recurring payments increases efficiency
Maintains vendor address history
Categorizes all payments for easy and accurate accountings
Deposits
Streamlines posting deposits through upload of deposit files from your bank
Supports collective accounts and individual accounts
Supports zero-balance (sweep) accounts to help protect against fraud
Categorizes all deposits for easy and accurate accountings
Fees
Streamline collecting monthly fees for active clients
Fee structure can vary by program (e.g., Payee, Guardian)
Configurable rates allow different billing rates per program, activity
Generate invoices directly from billable activities completed
Asset Management
Easy reconciliation
Supports all types of client assets including bank accounts, investments, insurance policies, real estate and personal property
System alerts you to overdrafts, stagnant funds, and resource limits
Alerts
System alerts staff to tasks which need attention: resource limits, appointments, no contact, no income, dormancy, bills due, past due and more.
Reporting
SSA, VA, and Court Annual Accounting reports
California and Florida specific annual accounting formatted reports
Detail Transaction History report
SSA Audit / Review Ending Balance, Name, Address, SSN report
And more…
Exact provides each staff members with a personalized dashboard that summarizes their caseload, alerts, calendar and assigned roles. Administrators can easily reassign roles or delegate coverage. Roles are designed to support industry best practices for segregation of duties and helps you manage risk regardless of your staff size.
Exact can be used to record time spent on activities, whether billable or not – which provides management with important insight as to where time is spent.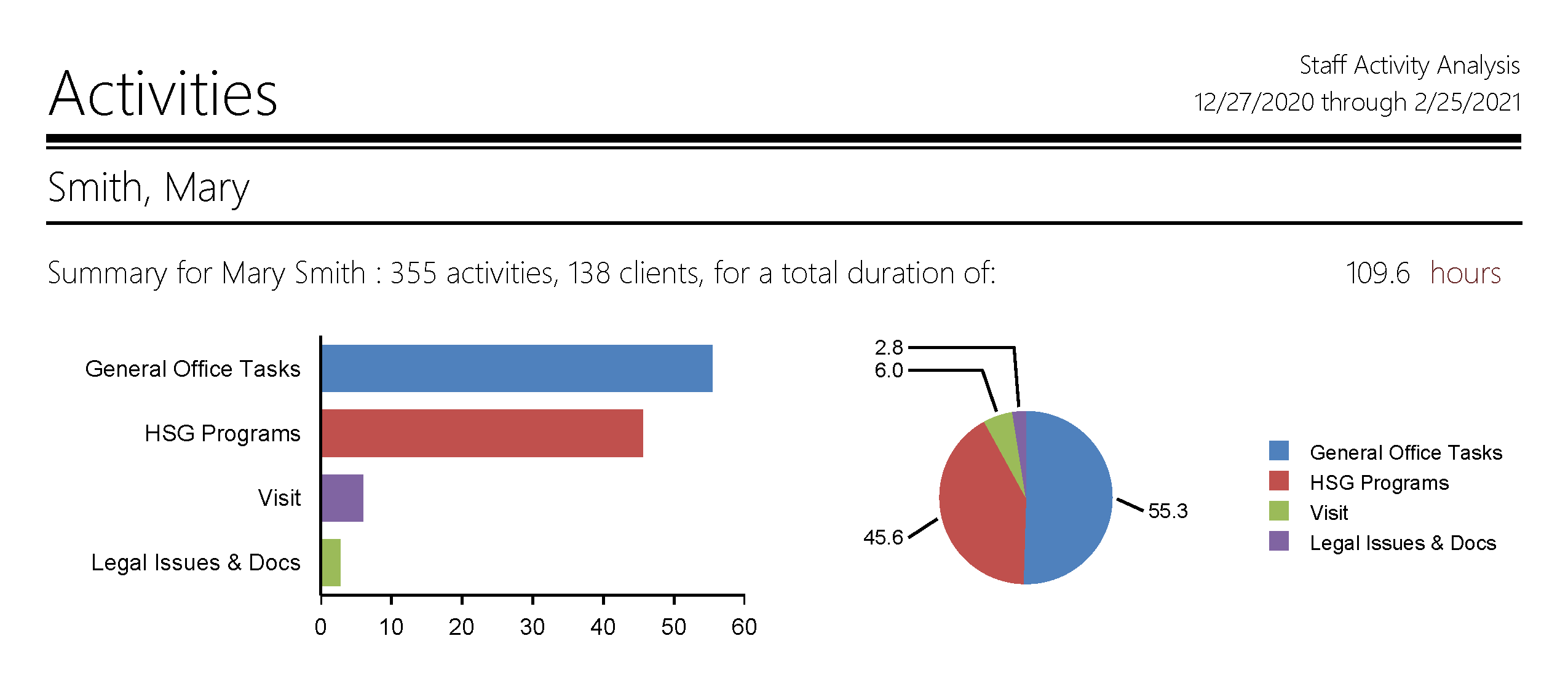 Activity and Expense Tracking
Comprehensive time and expense tracking with a built-in Activity Calendar for reminders and upcoming activities.
Billing reports for billable activities and expenses.
Configurable billing rates by program, activity category and staff person.
Manage Caseloads
Distribute client caseload across staff, and assign roles and responsibilities.
Staff Coverage Calendar for shifting caseloads.
Automated alerts and task reminders.
Ease of Use
Clearly-marked menus let you know where you are at all times.
Context-sensitive Online Help and quick access to User Guides.
Exact utilizes some of the most advanced technology for Internet security available today. When you access our site, Secure Socket Layer (SSL) technology protects your information using both server authentication and data encryption, ensuring that your data is safe, secure, and available only to registered Users in your organization. Your data is completely inaccessible to other organizations. In addition, Exact is hosted in a secure server environment that uses a firewall and other advanced technology to prevent interference or access from outside intruders.
Exact does not use cookies to store confidential user and session information, but instead implements more advanced security token-based identity framework.
Each subscribing organization has their own database
Role-based authorization supports segregation of duties
Staff can be assigned to specific client groups
Full encryption of all transactions
Automated data backups, as frequently as every 15 minutes
| | |
| --- | --- |
| | Guardian / Trustee functions |
Exact contains additional features that can be enabled for Guardians and Trustees that include everything you need for compliance with the court.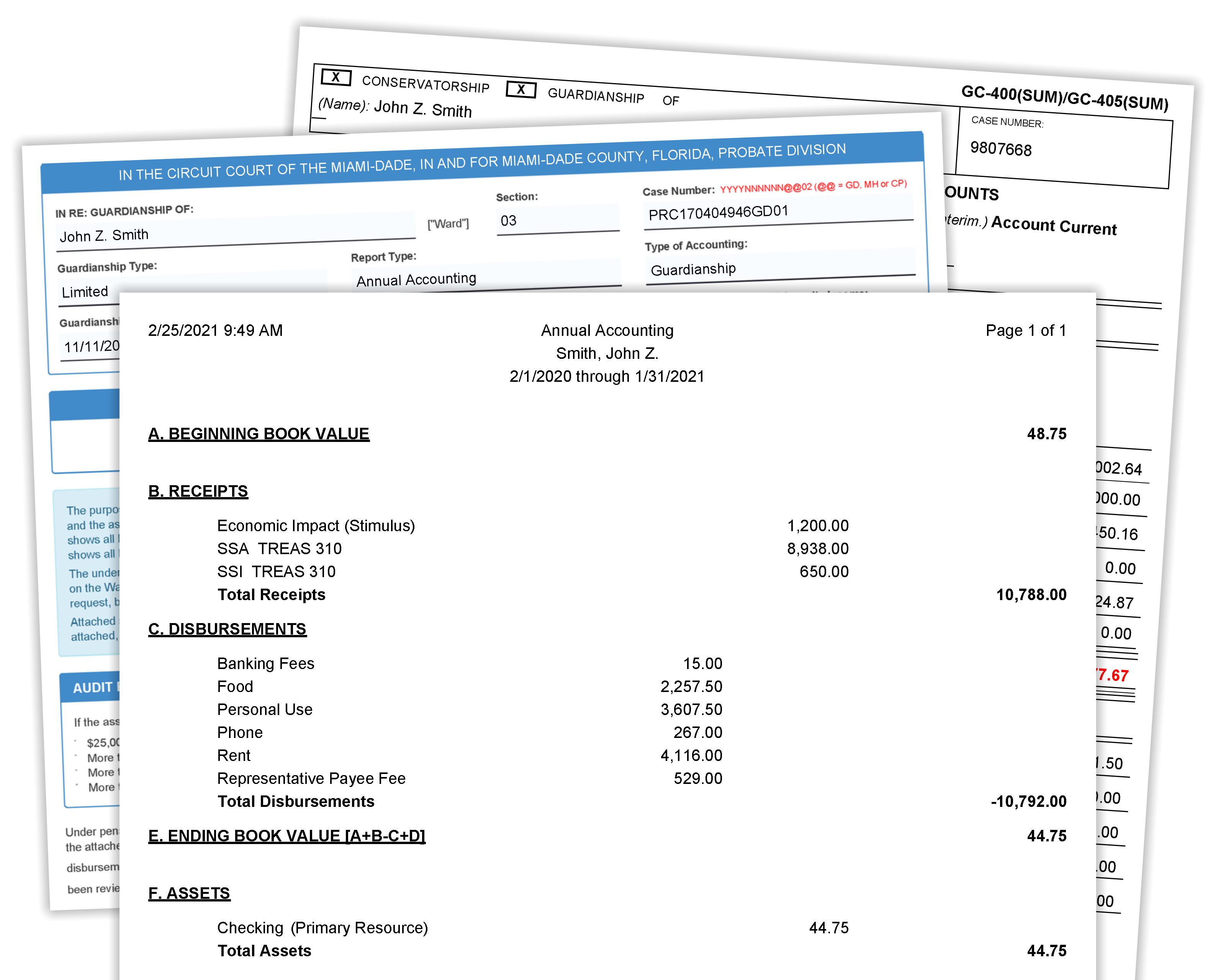 Legal
Track court orders, court dates, accounting periods and parties of interest.
Track scope of legal appointments.
Generate legal forms.
Manage bonded and blocked (restricted) funds.
Establish and manage client budgets.
Personal inventory tracking.
Reminders for best-practice level of direct contact with client.
Automatic court accounting reports.
Invoicing
The Invoicing feature creates time & expense invoices from client activities.
Setup billing rates by task, program or person.
Automatically create invoices and generate invoice reports.
Automatically collect invoice payments from client funds.
Record payments from external sources.
Keep track of invoice amount due and payment status.